Backpacker Flutes
A Quality Hand-Crafted Instrument at an Affordable Price.
My Backpacker Native American style flutes are made within the same basic design parameters as the more expensive Craftsman and Collectors flutes. Therefore, all my Love flutes sound basically the same.
The Backpacker is not a so-called Beginners flute.
Cheap Native American style flutes, often called beginners flutes, are a waste of money. The prospective first time buyer is often hesitant to put much money into something he is not sure he will take to. What he often gets instead is a cheap instrument barely worthy of the name. I think this is money wasted because he will throw or give away this flute at some point. Unlike quality Love flutes from reputable makers they have no resale value. I speak from my own experience and that of many others. Pay a bit more. Get a Native American style flute on which you can create that quality sound that will encourage your playing and support your growth as a musician.
The Backpacker Native American style flute is designed to be a robust all-terrain instrument. Remember all my flutes are backed by a no questions asked money back guarantee. If you find that the Backpacker Love flute is not for you return it and get your money back.
The Backpacker flute is made of a single wood species rather than multiple woods. This Love flute has a simple, low profile, contrasting wood bird on top of the flute. As with the other types of Native American style flutes that I make the bird is secured with a select quality buckskin thong and a turquoise colored bead. The Backpacker flute has a coat of polyurethane varnish on all the interior surfaces. The critical slow air chamber is also sealed with epoxy resin. The exterior has two coats of polyurethane varnish. The flute is sanded between coats to produce a smooth, durable semi gloss finish. Good for a rafting trip down the river or packing into the woods.
Walnut Native American Style Flute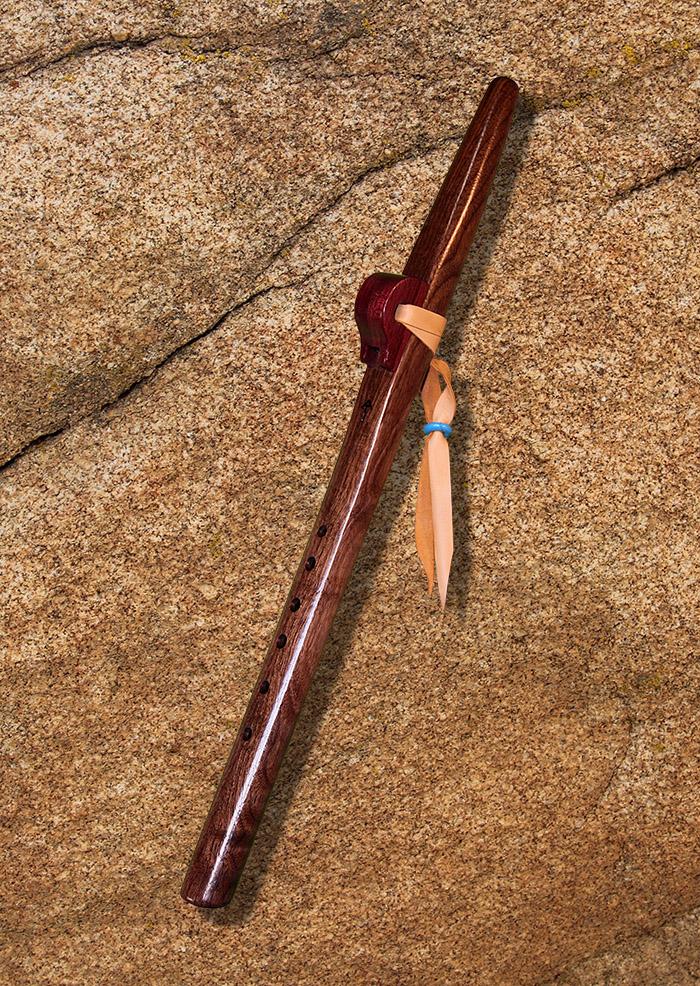 Walnut Love Flute
Bird: Purpleheart.
from $245.00
Walnut is the most sought after of the American hardwoods. It is a medium dense wood with close grain and tight pores. Walnut takes a beautiful smooth finish. Although walnut does not usually have a very pronounced pattern to the grain I try to choose pieces that have character. Because walnut is not as dense a wood as purpleheart and bubinga its tonal quality tends to be a bit mellower.
---
Wet Out Protection
$50.00
Zebrawood Native American Style Flute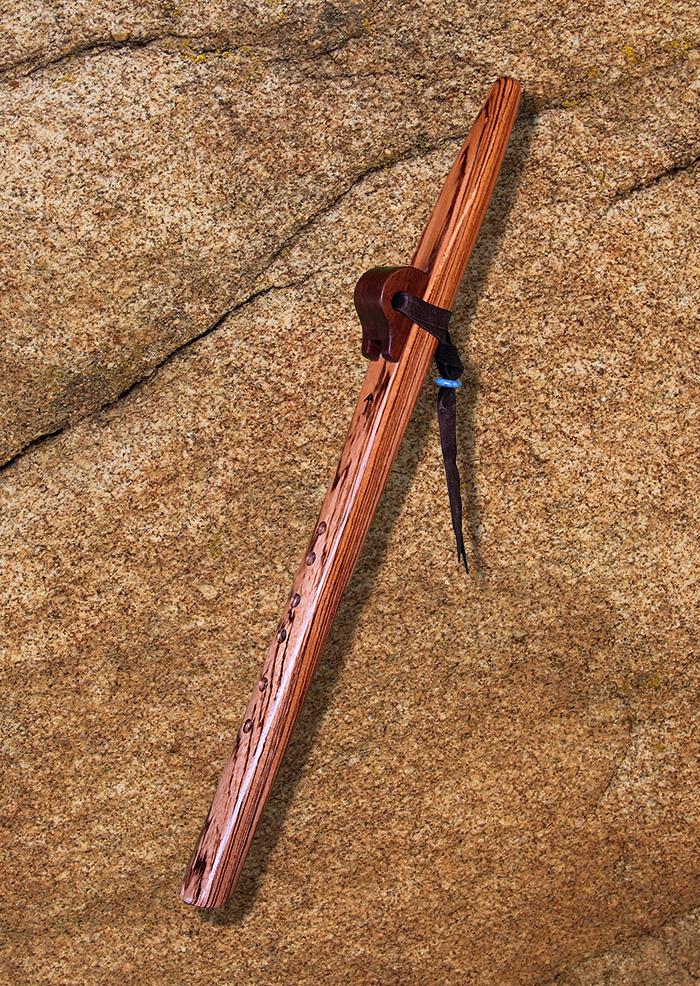 Zebrawood Love Flute
Bird: Walnut
from $245.00
Zebrawood is a very prized and expensive African hardwood. Zebrawood has very distinct and beautiful grain patterns of black/brown alternating with cream/tan colors. It is a coarse grained wood with open pores. Native American style flutes made of zebrawood tend to have a mellower quality of tone than the flutes made of bubinga and purpleheart.
---
Wet Out Protection
$50.00
Purpleheart Native American Style Flute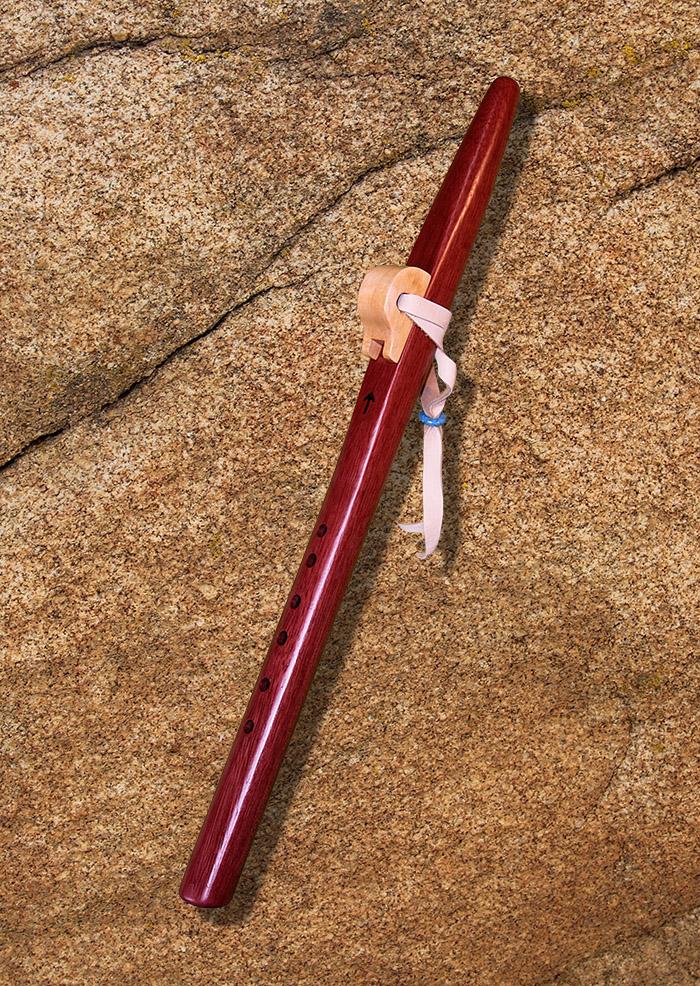 Purpleheart Love Flute
Bird: Maple
from $245
Purpleheart is a tropical hardwood that comes from Central and South America. It is known for its amazing purple color. Purpleheart is a hard, dense, coarse grained wood with little grain pattern. It takes a lovely, smooth finish. A Love flute made of purpleheart tends to have a bright tone.
---
Wet Out Protection
$50.00
American Cherry Native American Style Flute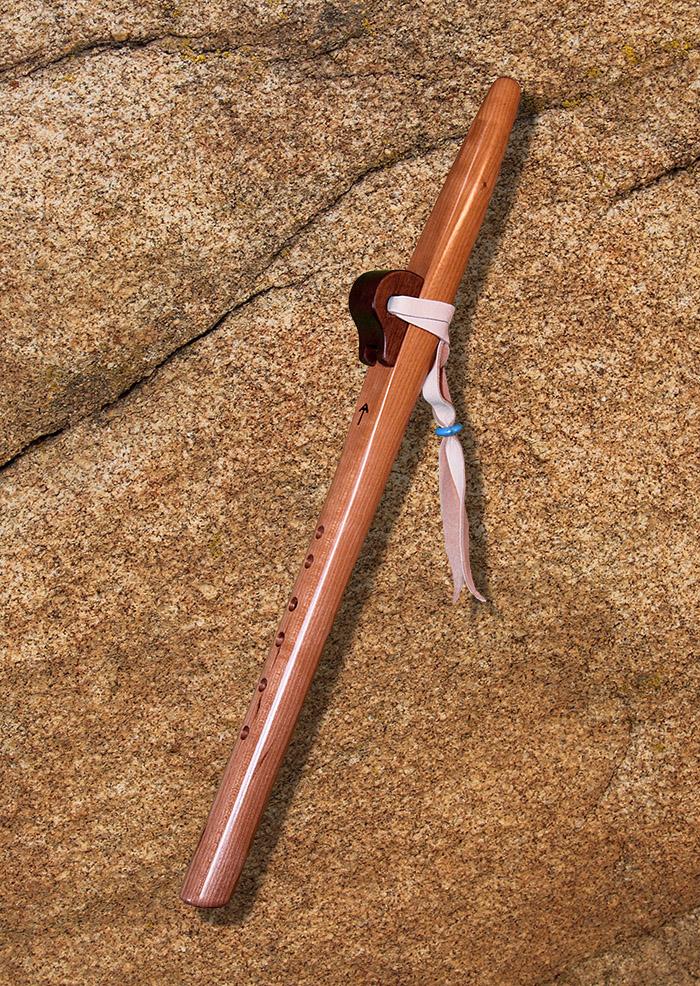 American Cherry Love Flute

Bird: Walnut
From $245
American Cherry is my favorite flute wood. It is a marvelous, sustainably harvested North American hardwood with sweet and clear tonal qualities. It starts out as a light tan color and darkens slowly over time into a rich, russet brown.
---
Wet Out Protection
$50.00