---
What Goes Into Making an Ancient Territories Love Flute
---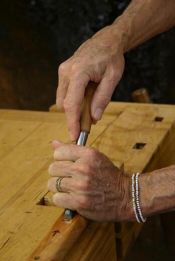 A renowned craftsman and teacher named James Krenov has said:
"Fine things in wood are important, not only aesthetically, as oddities or rarities, but because we are becoming aware of the fact that much of our life is spent buying and discarding, and buying again, things that are not good. Some of us long to have at least something, somewhere, which will give us harmony and a sense of durability - I won't say permanence, but durability - things that through the years, become more and more beautiful, things that we leave to our children. We can enjoy them while we are here, and even if we can't surround ourselves with these things ... they should be here for those of us who long for this sort of thing".
Knowledgeable and careful wood selection is the fundamental basis of a living Love flute. I have had the opportunity to work with exotic hardwoods of all types for more than thirty years. During that time I have studied under several master craftsmen. This has enabled me to develop an eye for quality in wood.
Fortunately, I live within driving distance of several large wood dealers. This allows me to go to a warehouse and search through hundreds of different boards. I am trying to find those special pieces of wood that have unique qualities of pattern, color and density. This is wood that will make an exceptional Native American style flute. Handling big boards is slow, heavy and time consuming work. In a single visit I may sort through several thousand pounds of wood. However, this is the only way to find those special gems that I will feel enthusiastic about making into an Ancient Territories Love flute. All the striking colors found in my Native American style flutes are natural wood. I don't use any stains or dyes.
I want to help you understand and appreciate what goes into making an Ancient Territories Native American style flute. I think that this knowledge will help you better appreciate the Love flute you get from me. You will also discover what separates me form many of the other flute producers out there. Please take the time to go through the following material and then you will know what your money is paying for. So that you can learn how my flutes are made I am going to list the basic steps that go into making a flute. These steps are taken with every flute I make. For the higher priced models like the Craftsman Flute and the Collectors Flute many additional procedures are necessary.
It would be possible to simplify this process and thereby make a less expensive instrument. But if I did so I would not feel comfortable putting my name and brand on the Native American style flute that you will be playing. In my mind that type of flute would be second-rate.
If you wish, you could also use these notes to help you make a flute of your own. But, you would need a shop equipped with similar tools. If you are serious about making a flute on your own there are some good flute making manuals and DVDs available. Get one of those. Then, you can use these notes as a supplement to instructions you find in other sources. I don't recommend that someone with little or no wood working experience attempt making a flute. This is because it usually takes many flutes before you start to make something that is much good. But, if you've got the bug - good luck.
---
Click here to view a step-by-step guide to the process I go through in making a flute.
---