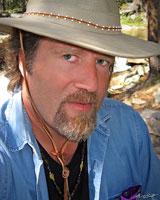 I am offering for your convenience and listening pleasure four CDs by my very talented friend Bill Leyden, aka Memo. This is pure Native American flute music without a lot mixing and added instrumentals. You can learn a lot about more advanced flute techniques by carefully listening to and then imitating the playing you will hear on any of these CDs.
Bill Leyden is a healer in the Incan energy-medicine tradition. The Native American flute first appeared to him in a guided shamanic journey called a soul-retrieval. Later, after receiving the ninth rite-of-passage (The Creator Rites) from the Q'ero elders of Peru, he began recording albums of Love flute music that he uses for healing sessions and meditations.
Bill is a professional recording engineer who honed his skills in the 80's at ABC Recording Studios in Hollywood, he has returned to the studio, but this time on the performing side of the microphone.